988 DESOLDERING STATION
DESOLDERING STATION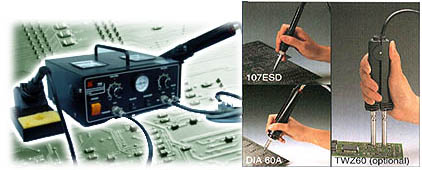 INNOVATIVE FEATURES OF THE ALL NEW 988:
ENERGY SAVER: Automatically powers down after 15 minutes of idling as indicated by the Pause
LED-saving power while extending tip life.
DELAYED SUCTION: Pump will continue sucking for 1-2 seconds after actuator is released, clears
the tubes and prevents clogging of the tip.
ANALOG AIR PRESSURE GUARE.
COMBO UNIT: Integrates the solder and desoldering functions into one, space saving system.
CERAMIC ELEMENT: Solder wand is our ergonomic mini-handle.
STANDARD FEATURES:


TEMPERATURE STABILITY:
Tip temperature accurated to within ± 3 °C (6°F)


SPIKE FREE CIRCUITY:
Zero Voltage switching and fully grounded design makes this unit safe electro-sensitive devices.


ELECTRONIC TEMPERATURE CONTROL:
Adjustable temperature w/o changing tips.


VACUUM SWITCH:
The pump is controlled by a finger actuated, thyristor switching circuit located on the desoldering handle.


IRON ASSEMBLIES:
Detachable solder (new ergonomic mini-handle) and desolder wands for ease of use and repair.


PUMP:
A self-contained vacuum pump engineered to provide continuous, maintenance free operation.


ISOLATED POWER SUPPLY:
Powered by a high quality 24VAC transformer.


ACCESSORIES:
Optional XYFX1 fume extractor kit or SMD tip adapter.





SPECIFICATIONS
Model

988

Mains power VAC
As requestd
Iron assembly
Solder
Desolder
Tweezers
(optional)
Part #
107ESD
DIA60A
TWZ60
Heater output
24Va.c.
24Va.c.
24Va.c.
Heater power
60W
60W
30W x 2
Vacuum pump
operating voltage
115Va.c. for 100-120V
230V.a.c. for 220-240V
mains power
Temperature range
200-480°C
300-450°C
150-430°C
400-900°F
570-850°F
300-800°F
Standard tip
* 44-510601
(B01)
* 44-915412
(D12)
* 46-060102
(TZ02)
Dimensions
(W x L x H)
320 x 250 x 145 mm3
12.60 x 9.84 x 5.71 in3
Net weight
(excluding optional accessories)
6.5kgs (14.3 lbs)
---




---